If you've never made macarons, then this coffee macarons recipe will surely hook you on macarons for life.
How I get to make the macarons
I'm not really a fan of coffee in pastries, so I've never tried this flavor for my macaron recipes before. But then, last week, in my cooking class one of the students asked me if we would do the "classic toppings": chocolate, raspberry, coffee… And I realized that actually, for many people the coffee flavor was a must. So I said that's it, I'll make some homemade coffee macarons (not to be mistaken with macaroni)!
And the worst(or best) part is that I actually loved it! In the last few years, my tastes have changed quite a bit, I'm beginning to like a lot of things, I didn't like before (including coffee), so things are going in the right direction I guess 🙂
At the moment I don't spend much time at home as I'm interning in a pastry shop, but today I wanted to share my easy coffee macaroons recipe with you. I always use the same recipe for cockles and the one for my internship is very similar, so it's not bad!! hehe 🙂
I also wanted to tell you that these macaroons have had two photo sessions: mine, as usual, a little bit at the snatch (in pajamas and breakfast when the coffee was still hot in the coffee pot !), and a pro session, that was done later in the day.
I was contacted by a fellow foodie, a photographer, who asked me if I would let her take some of my work, because she was looking for a way to improve her culinary photography… Having a macaroon class on a Saturday, I asked her to come home on Sunday afternoon to take pictures. she took pictures, we talked for three hours, things went really well, we had a great time. The picture below is mine.
The other two are by my foodie friend, more refined and much more appealing. Thank you for sharing this nice moment 🙂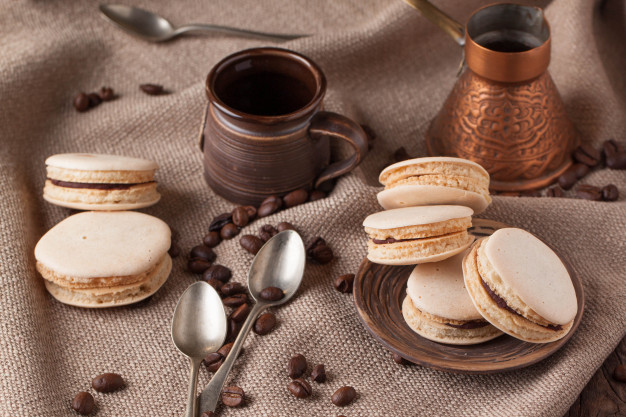 For the making this coffee macarons recipe I pretty much stick to my favorite French meringue shells recipe, which is quite similar to the macaron recipe. Since it works all the time and it's really the easiest, so why bother changing it?

Did you know?
The macaroon first appeared in Europe in the Middle Ages, in Italy, under the name of maccherone. Catherine de Médicis is said to have it served at the wedding of Duke Anne de Joyeuse, in Ardèche, in 1581.
It also appeared in Saint-Jean-de-Luz in 1660, where a pastry chef offered the macarons to King Louis XIV for his wedding. In Paris, a royal cook named Dalloyau served macaroons to Kings as early as 1682.
Today there are more than 40 regional macaroons variations.
Small cake made of almond, sugar and egg white, it's crunchy on the outside and fluffy on the inside. Originally, the macaroon was just a cookie. It was later enriched with jams, spices and liqueurs, and then made by sticking two halves only in the 1830s. At the beginning of the 20th century, the "macaroon parisien" was born : the pastry maker Laduree wanted a sweeter and more aromatic macarons, so he enriched it with jam or buttercream, and natural colouring. This recipe is still a global phenomenon today.
Ok, enough history, here is the recipe.
Easy Coffee Macarons Recipe
For 25 to 30 macaroons :
Easy Homemade Coffee Macarons Recipe
Ingredients
100g egg whites (3)
125g sugar powder
125g of icing sugar
125g almond powder
a little cocoa powder
For the coffee cream (about 20 macaroons) :
2 cups hot water
7g soluble coffee (lyophilised)
130g soft butter
80g of icing sugar
80g almond powder
For the ganache:
100 g white chocolate
200 g whole cream liquid
1/2 tbsp acacia honey
1 tablespoon soluble coffee
Instructions
Mix and sift the icing sugar and the almond powder.
Add the sugar 3 times.
Continue to beat until meringue has a smooth and shiny appearance.
Pour the sieved powders over the meringue then macaroon (mix with spatula).
The apparatus must be bright, homogeneous and rather flexible without being too liquid.You need to see bubbles form, evidence that the Whites have been incorporated with delicacy.
Place parchment paper on two cooking plates.
Pour the macaroon into a sleeve pocket and with a smooth (non-fluted) sleeve, form macaroons about 2.5 cm in diameter on the parchment paper.
Allow to crumble for 20 to 30 minutes.
Preheat oven to 145°C.
Sprinkle the macaroons with cocoa.
Bake the macaroons 13 to 15 minutes (in my oven-keep in mind).
At the end of the oven, wait a little before picking up the shells and topping them with the coffee cream.
Then keep them cool in an iron container.
For the coffee cream (about 20 macaroons) :
Melt the chopped white chocolate with the acacia honey in a water bath.
Meanwhile, heat 50 g of cream in a small saucepan.
As soon as the cream simmer, pour 3 times over the melted chocolate and mix with a spatula.
Add the soluble coffee and mix well then add the remaining cold cream liquid and mix.
Place the container in the refrigerator for more than 6 hours (or better overnight).
The next day (or 6 hours later), place your salad bowl containing the ganache and the electric mixer whips in the freezer for about 15 minutes.
Take out the salad bowl and gradually beat the ganache to obtain a thicker and smoother mounted ganache. Continue until the cream is firm.
Mix the water and the coffee powder to get a little bit of very strong coffee. Book.
Whisk the butter until the butter is creamy.
Then add the sugar and whisk again until it is completely absorbed.
Add the almond powder and continue to whisk.
Finally, finish by adding the coffee and whisk until the cream is well homogeneous.
All you have to do is garnish and place the cream in the middle of the two halves and put them together.
You can make macaroons with funny shapes too by searching for ideas on the internet.
And that's it, I don't have any more macaroons in my freezer! For a late dinner with friends, I decided to garnish with a chocolate ganache praline. Mmmm, I've become a fan of pralines! And there's no need to say, the ganache cupcakes are the best, I really recommend it, it brings more lightness and sweetness (yes, even in a dessert!). I stole the ganache recipe from a professional chef friend, a real authority when it comes to macaroons.
Notes:
If you are allergic to white chocolate or just want to change the recipe a bit, you could replace the white chocolate with dark cocoa. You can make a dark chocolate ganache and add either coffee extract or dissolve some coffee grounds in fresh heavy cream.
Make sure you also try these yummy lemon bars, I think you will love them too:-).
Let me know in the comments if you tried this coffee macarons recipe or if you have any questions or suggestions
Enjoy !!