Today I feel Mediterranean vibes in the air and for this reason I would like to share with you a recipe coming straight from Greece: the Spanakopita!
Spanakopita is an iconic and must-have Greek traditional dish. It's a pie based on filo dough (mostly) filled with spinach, feta, green onions … it is the pie that we used to buy from the local bakery here, which we find on the large tables as a starter meal or takeaway food. Spanakopita is perfect for a picnic and is the one that has often accompanied me during my travels in Greece. Summer day and the gorgeous blue sea a few feet away, with a just a salad next to it is perfect.
The spanakopita is very similar to Bulgarian banitsa which is a filo dough cheese pie. Another close variation is the Croatian komiska pogaca. Try them out and you won't regret it, especially if you like Mediterranean cuisine.
You want to please your eye with some natural beauty? Well, last summer we went to Greece and more precisely to the Santorini and then we visited the island of Rhodes, it was surreal! Between walks and swimming we also ate delicious local food and among those were the delicious spanakopitas and I fell in love(both in the places we went and the food)! The recipe is a little further below.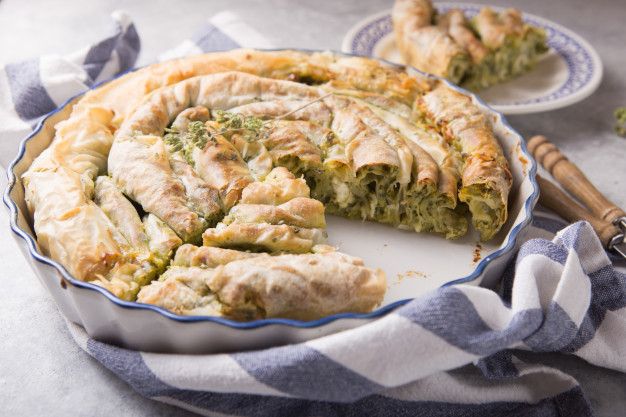 Click here to skip straight to the recipe.
So, here we go with some nice shots from Santorini Greece:
And a few gems from Rhodes which we also visited during our trip:
I felt like I'm in a fairy tale or just in heaven all the time. You really can't go wrong by visiting this wonderful place. I wish I could stay longer there too.
What is Spanakopita?
It basically means "spinach pie" (or spinach bread, but there are also versions with cheese or other vegetables (I will give you the different version recipes below). In fact, the concept is widespread from the Balkans to the Middle East: thin and crispy filo dough, stuffed with a filling, which becomes a wonderful snack food. The shapes can also vary (I will give you the most familiar large round pie version, but spanakopita is also often made in the form of triangles too). Ingredients can also vary depending on whether you are on mainland or on the islands, in town or in the countryside.
The more sumptuous version includes phyllo dough, cheese and melted butter (which I sometimes replace with olive oil or the more frugal, but still delicious and healthy Olive pomace oil version).
Below, I will happily give you the recipe that I have been enjoying and preparing for years now and that is always greatly appreciated at home. It's typical recipe for my kitchen by the way, but also quite similar in the flavors I've grown up with (especially for an Italian hence the famous ricotta-spinach combination). In addition I love phyllo dough (I have friends who make it themselves I am admiring). Now you can find them quite easily in the large supermarkets (rather the hyper markets outside the city) or even better in Oriental grocery stores.
So, How to Make Spanakopita at Home
For this recipe, nothing complicated is needed, just have some spinach, eggs, an onion, feta cheese, all wrapped in filo dough and you're done 🙂 ! In Greece they do not add much more but in my house we like to add other ingredients while it is really not necessary. There is a variant in which the filling is rolled not in filo dough, but in a calzone type of dough, though I have almost not seen these very often!
So, I suggest you check the authentic spanakopita recipe below. it's worth it.
I chose the "individual" slices version that I find easier to eat, but you can prepare it in the form of a pie, much like the muttabaq (here)!
I hope the recipe below will please you and your guests!
Tip: the dimensions of filo dough can vary depending on the brands, take a little more than a little less, you can cut them to fit the mold and it keeps well (well covered in cool place).
You can just put feta cheese (it's great on toast and sandwiches), which is pretty much the same as Bulgarian sirene cheese, but ricotta cheese brings a lot of creaminess, so it's up to you to choose which one you will use!
Easy Homemade Traditional Spanakopita Recipe
Dish type: appetizer
Cuisine: Greek
Preparation time: 30 minutes
Cooking time: 45 minutes
Servings: 4-6 pieces of spanakopita
Spinach and feta cheese pie spanakopita recipe with filo dough traditional delight of Greek cuisine.

Ingredients for the spanakopita recipe

600 g spinach fresh shoots or tender leaves
260 g feta cheese
16 sheets filo (or phyllo) dough or a dozen if they are really large
2 green onions scallions (or white 4 onions)
30g flat leaf parsley
a few sprigs of dill
2 eggs
extra virgin olive oil
salt and pepper
a pinch of Grated nutmeg (optional)
Instructions
Preheat the oven to 180°C. Fry the chopped onion (white) in a little oil 5 minutes. Wash then saute the spinach in a frying pan or saute with the onion and mix for a few minutes while they "fall" and lose a little water. Drain and cut with a knife.
Crumble the feta in a salad bowl then add the spinach, chopped herbs (including the Green of the new Onion), The New onion and mix. Stir in eggs, salt and pepper.
Lay a sheet of filo dough (if the mold is small, cut it in half) and brush it with olive oil. Keep the rest of the leaves well covered as they dry quickly. Do the same with 8 other sheets(they will protrude from the mold, this is normal).
Then spread the stuffing and cover with the rest of the filo dough sheets, laid one by one and brushed each time with olive oil. Fold the edges of dough that are outside on the cake, brush again with oil.
Bake in the oven for forty minutes. The dough should Brown and become crispy. Leave to cool, then gently remove and serve with a fresh salad.
Notes:
Storage: the spanakopita is stored at room temperature until the next day or even the next day if it is not too hot. It will be enough to warm it up a little in the oven before serving (or in the microwave but it will lose a little crispy.
Variations of the spanakopita recipe: instead of making a pie, form triangles (same principle as briouates) or cut the pie in squares and sprinkle with sesame seeds: very convenient to take to the beach or on a picnic.
You can also make a cheese version (tyropita): the process is the same, but the stuffing is composed of one egg, 300 g of feta, 150 g of ricotta and 3 cs of milk. You can also add herbs to flavor it.
Using other vegetables: you can stuff the pie with 700 g of cooked eggplant meat( according to the same method as for eggplant caviar), 80 g of feta, parsley, a large whole egg, chopped onion and a little milk.
in the islands often and depending on the season spinach can be replaced in part by Chard and leeks
you can replace feta with ricotta (or even dried ricotta) there are also even simpler and frugal versions of the campaigns with a dough based on water and flour (much like in torta pasqualina) and a stuffing with only cooked vegetables and a little flour (no egg or cheese) in some versions, the oil is replaced by melted butter.
Spinach: if they are fresh and good (not old) it is the top choice, but if you do not have them on hand, know that good frozen spinach will do the trick too (I recently discovered one in my local market which was tender and sweet, lucky me).
Also, check out my Greek Souvlaki pita wraps recipe, which is very similar to Mexican falafels.
Spanakopita also goes perfectly with a Bulgarian tarator, which is a refreshing healthy cold summer soup.
Do you like cooking traditional Greek dishes, I know I do. So, if you want to surprise and delight your guests for the upcoming holidays, especially if you have Greek friends or relatives in your family, make them a steamy tender and healthy spanakopita. They will surely like it a lot and will ask for more ;-).