What Is Oyster Sauce?
Oyster sauce is an oyster-based condiment as its name suggests. It's sometimes called "milk of the sea" and is used for cooking mainly in southern China, but is also widely used in Thailand, Vietnam and Malaysia.
It's a thick, sweet-salty sauce, with a light marine (fishy) taste and is rich in umami.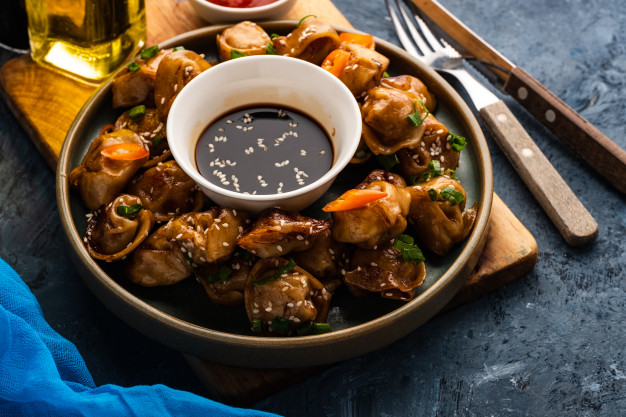 The brownish and velvety oyster sauce is a relatively recent invention, dating back to 1888 (compared to soy sauce that is more than 2000 years old).
It was invented accidentally by a man named Lee Kum Sheung, who allegedly left a pot of oysters on the fire. The sauce had thickened to black oily mixture, and he discovered that this very fragrant sauce had a wonderful taste. Then he founded Lee Kum Kee, which is still one of the leading producers of oyster sauce today.
Oyster sauce is a an exotic sauce with Chinese origin that has become traditional in most Cantonese, Thai and khmer cuisines. It is mixed with other dishes to reveal as we mentioned this fifth taste that is so typical of the far east: umami.
Oyster sauce as it is sold nowadays is a mixture of oyster extracts, salt and or soy sauce, sugar, and often a thickener (cornstarch) and caramel coloring.
The percentage of oysters in the sauce varies greatly from brand to brand, ranging from 3% to 30%. Slight differences may also exist from one producing country to another.
The oyster sauce sold in Thailand has a taste that is a bit different from the Chinese version for example, but in general, they are all pretty much interchangeable.
The taste of the oyster sauce is nothing fancy even though the sauce is made of oysters. This sauce would give your meals a salty, savory and sweet taste, but it would also have an earthy sensation on the tongue. This presence of earthy feeling would really indicate the quality of any oyster sauce.
Here's what you need to pay attention to if you are looking for the best oyster sauce to please your taste buds. Below we are going to look closer at the oyster sauce ingredients, composition and characteristics, which will answer your questions and then you would have a better idea about what does oyster sauce taste like.
Does Oyster Sauce Smell Fishy?
Yes! Oyster sauce does smell a bit fishy. You can overcome this by adding some lime juice or using it in smaller quantities.
What Is Oyster Sauce Used For?
The main purpose of using an oyster sauce with your food would be to add pleasantly salty flavors to various types of dishes. This sauce is usually used to enrich flavors in vegetables or meat dishes.
All Chinese homes would have this seasoning to cook their dishes. It is also used in salad dressing, noodles, stews and soups.
The proper storage would also determine the freshness of the sauce, so keep an eye on that. Once you open your sauce, you will need to store it in an airtight container. There are different sauces, which are found in the market today. Each brand would have different characteristics, so pay attention to labels when shopping.
Where To Find Good Oyster Sauce
Oyster sauce is already widely available on grocery store shelves. Quite often, it will be Lee Kum Kee's "Panda" oyster sauce. It contains about 4% of Oyster extracts, which is quite low, so it is not a high-end sauce, but it does the job perfectly.
Lee Kum Kee also markets an oyster sauce called "Premium" that many people recommend too. The bottle can be identified by the design of a boy and a girl on a boat.
On the Thai side, the maekrua brand is the most popular and of good quality. To find these versions, you will probably have to go to an Asian grocery store, or search the Internet. In general, look at the list of ingredients to see if it mentions the percentage of Oyster extracts.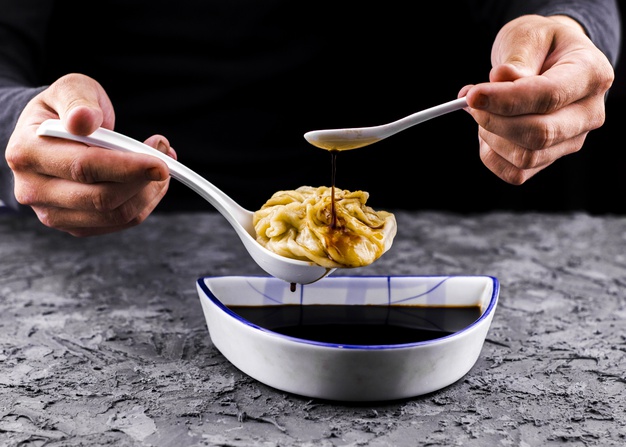 Why Is Oyster Sauce Bad For You?
Oyster sauce makes your food taste nicer in moderate amounts. However, it does not really benefit the body if you overconsume it as it does not have any significant amount of vitamins and minerals, nor protein or fiber.
One thing to take note of is that oyster is high in sodium. Most oyster sauces available on the market also contain added monosodium glutamate (MSG), which some people believe can be harmful.
Too much sodium is known to be the cause of the increased risk of developing high blood pressure, which is a major cause of stroke and heart disease.
What To Use As An Oyster Sauce Substitute
If you're running out of oyster sauce, replace it with soy sauce.
Or fish sauce (nuoc mam) by halving the amount, and adding a little bit of sugar too. Another option, if you have one is hoisin sauce.
If you are looking for a vegan alternative, there are mushroom-based oyster sauce substitutes available at Asian grocery stores. For example, Lee Kum Kee markets it under the name " mushroom vegetarian stir-fry sauce".
Widely used throughout the kitchens in Asia, oyster sauce is most often used to enhance hot dishes by highlighting the fifth flavour, umami, which is similar to that of broth and meat. In general, it should not be heated too much in order to keep its nutrients intact.
The cultivation of oysters used for the production of oyster sauce will really vary from place to place. Sometimes they are wild oysters, sometimes farmed and the packaging will not necessarily be precise on this subject.
They are usually produced in Fujian and Guangdong on the coast. The northern oyster is rich in phosphorus (180 mg per 100g not dried versus 10 mg), while the southern Oyster will be richer in calcium (165 mg versus 118 mg) and vitamin A (500 AU versus 133).
Oyster sauce is made at the same time as cooked dried oysters are made. The resulting cooking juice is then collected, reduced and incorporated into the oyster sauce. So, then we get a thick tasty, umamy rich oyster sauce.
Nutritional analysis of oyster sauce
The original recipe used for making oyster sauce is rich in the following nutrients:
Essential amino acids (glutamic acid, nucleic acid, leucine, valine, lysine)
trace elements (including zinc)
taurine
It is widely recommended for its very high zinc content.
The oyster sauce without the oyster!
That's right. Some of the oyster sauces available on the market replace the oyster with a vegan fish sauce. Take a look at some of the alternative ingredients below:
water
sugar
fructose
salt
flavour enhancers
colorings
No oysters!
Caramel and vinegar are also sometimes found.
This recipe includes an unspecified "fish sauce", often derived from anchovies.
In the same way that we have nuoc mam chay, the vegetarian nuoc mam, we also have instead a vegetarian oyster sauce, made with mushrooms and not oysters.
Other ingredients to watch out for
You can find them on the packaging and you should avoid them really:
Since the 19th century, the production of oyster sauce has evolved quite a bit. Today the manufacturers no longer hesitate to incorporate these ingredients in their oyster sauce:
cornstarch for thickening ;
concentrated oyster extract for aroma;
caramel to darken it.
Today, an oyster sauce consisting essentially of a reduced oyster broth would be expensive. Those that are easily found in Asian grocery stores are made with a thick starch sauce and then flavored with concentrated oyster extract.