The humble mini Babybel takes us back to our childhood packed lunches. These delicious, individually wrapped cheeses first hit the shelves in 1977, and since their inception, they've delighted cheese lovers of all ages across the world.
Whether you love them on their own or paired with a snack pizza or fruit skewer, you have found yourself wondering… just what kind of cheese is Babybel?
Well, wonder no more – we're here to clear up any misconceptions about the beloved Babybel, and even show a few surprising ways to enjoy this delightfully creamy, tart, munchy cheese treat.
What Is A Babybel?
In short, these mini cheeses are a much smaller, bite-sized version of the Dutch cheese Edam.
These bite-sized cheese snacks are slightly hard and slightly soft, and they're a predominantly mild (and sometimes nutty) cheese.
However, there is a slight difference – while you'd never describe Edam as being tangy or slightly tart, you'd certainly say this about a Babybel.
It may not be as overbearing as some of the cheesiest cheeses out there (like Brie or Camembert), but those undertones are definitely there!
Babybel's are usually purchased in a multipack of 10-12 cheeses, and each one is individually wrapped in a wax made from a mixture of paraffin, microcrystalline wax and red coloring.
Fun fact: if you're low on candles, you can turn your Babybel wax wrappers into a candle! Yes, really.
Our favorite cheesy snacks have come a long way since their inception. Babybel can now be bought in a variety of flavors, including:
Babybel Sharp
Babybel Original
Babybel Light
Babybel White Cheddar
Babybel Gouda
Babybel Mozzarella
What Cheese Is Babybel Made From?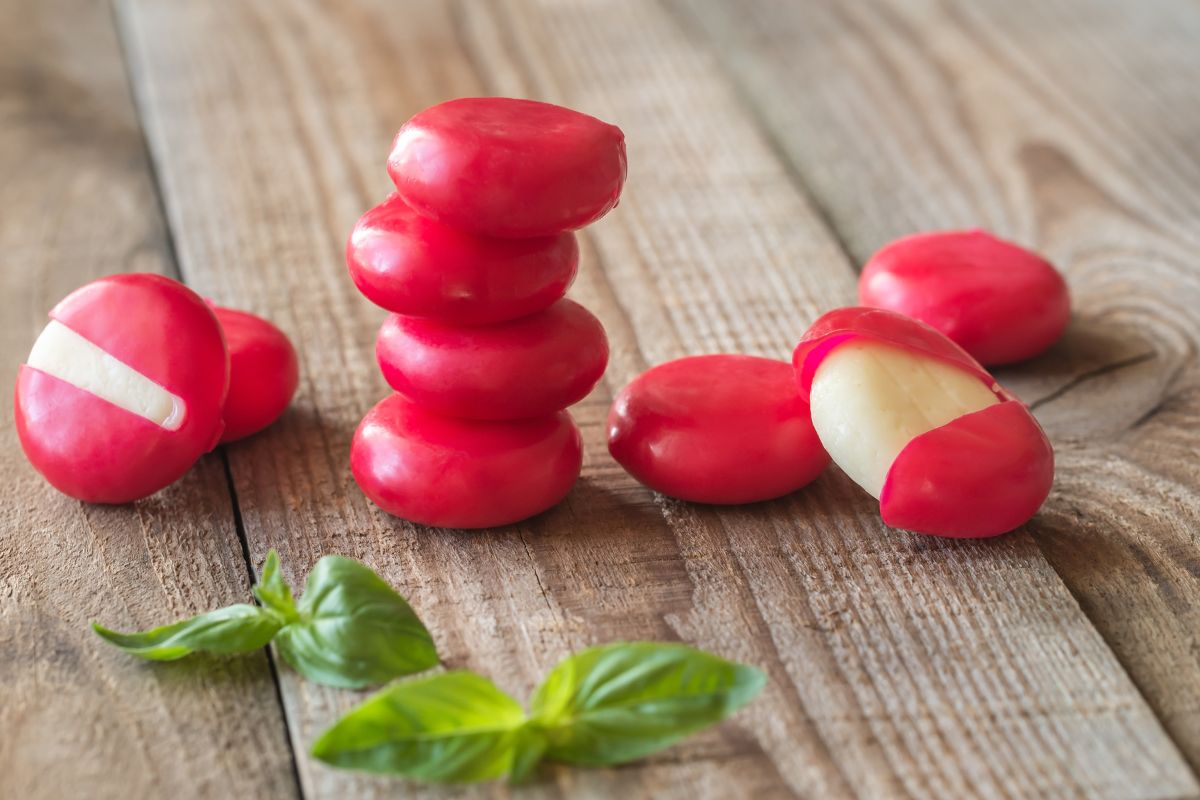 Babybel Original is Edam cheese. However, there are other varieties of Babybel available, and these are made with White Cheddar, Gouda, and Mozzarella cheese.
There are even more varieties of Babybel available across the world, and these are also made with different cheeses.
Let's take a look at how different the Babybel flavors are in Europe, the US, Canada, and other countries.
Babybel Flavors And Cheeses: The US And Canada
In the US and Canada, you'll find these varieties of Babybel available at your local grocery store:
Babybel Red Original (Made with Edam)
Babybel Green (Made with Mozzarella)
Babybel Blue/Babybel Light (50% less fat than the original Babybel)
Babybel Black (Made with White Cheddar in the US, and Cheddar in Canada)
Babybel Orange (Made with Gouda)
Babybel Purple (Edam but sharper)
Babybel Yellow (Swiss Cheese taste, only available in Canada)
Babybel Light Green (Goats cheese or Organic)
Babybel Flavors And Cheeses: Australia
Babybel Red (Made with Edam)
Babybel Orange (Made with Cheddar)
Babybel Blue (Made with Edam, 38% Less Fat)
Babybel Flavors And Cheeses: Europe And Other Countries
Babybel Red Original (Made with Edam)
Babybel Green (Made with Mozzarella)
Babybel Blue Light (Edam with 50% Less Fat)
Babybel Black (Edam with Extra Protein – 5g of extra protein per Babybel)
Babybel Purple (Made with Cheddar)
Babybel Yellow (Made with Emmental)
Babybel Green (Organic Edam)
Can You Eat the Wax On A Babybel?
No, the wax on a Babybel shouldn't be eaten. The purpose of the wax is to keep the inside cheese from spoiling and to preserve its moisture. You should always peel away the wax from your Babybel before eating it.
Although the wax coating won't do you any damage if you do eat it, it's not recommended. Honestly, it won't taste very nice, and you'll be much better off enjoying your cheese as it's meant to be eaten – without the wax!
How Are You Supposed To Eat Babybel Cheese?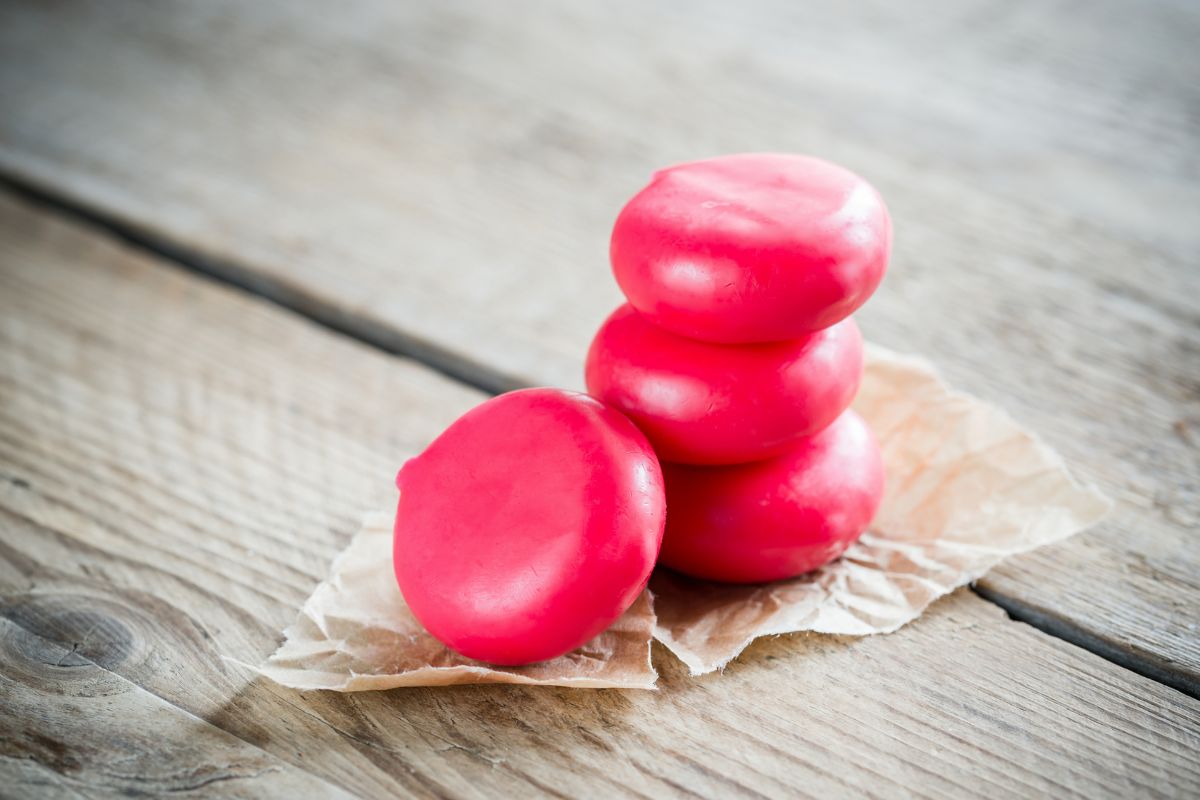 We call these cheeses bite-sized for a reason! Although Babybel can be eaten in a number of ways, they're designed to be eaten just as they are. Simply peel off the wax, and enjoy!
However, there's no hard and fast rule that dictates you HAVE to eat your Babybel this way. If you really want to get creative, there are plenty more ways to enjoy your Babybel, and we're here to open up your imagination…
Babybel Cheese Dippers
Bored of eating Babybel the same way? We're here to help. These Babybel cheese dippers are one of the tastiest ways to enjoy a Babybel of any variety…
Ingredients
8 Babybels
2 Beaten Eggs
75g Plain Flour
150g Crushed Doritos
To create these super tasty mozzarella dipper spin-offs, you'll only need to follow a few simple directions:
Preheat your oven to 220 degrees Fahrenheit, and line a baking tray with paper.
While your oven is preheating, peel the wax from your Babybels and crush your bag of Doritos until they have a similar texture to breadcrumbs.
Now, dip each of your Babybels into some flour, then egg, and top them off with your crushed Doritos. Dip them once again in egg and Doritos, and do this until your entire Babybel is covered from head to toe!
Now, stick your Babybels in the oven and leave them to bake for 15 minutes, or until they're golden and starting to ooze that cheesy goodness.
Remove your Babybel dippers from the oven, and serve immediately!
Babybel Pizza
Another way to enjoy the taste of your Babybel is to swap out your traditional mozzarella topping for some slices of Babybel!
We won't include a recipe, here, as you can add Babybel to almost any cheesy pizza imaginable.
Simply chop off some thin circular strips of Babybel cheese, place them on top of your pizza, and leave it to cook in the oven for 10-15 minutes.
This super tasty result will make you see this beloved snack in a whole new light!
The Bottom Line
Babybel is a timeless snack that can be enjoyed in almost any way you fancy.
Although the original red Babybel cheeses are essentially mini Edams, you can find other varieties made from mozzarella, white cheddar, and even gouda!
Whichever cheese you prefer, just be sure to savor every bite of this iconic bite-sized snack.