These incredibly healthy beet brownies are the best brownie recipe you can possibly find out there. Period, I can confirm that. But don't just take my word for it and make them yourself.
I would say, without any doubt, that this is the tastiest, juiciest and most powerful vitamin and nutrient packed brownie of all that I have eaten in my life, and there have been quite a few!. It may sound uncommon about beetroot, but it is.
Beet brings a nice juiciness to the dough that can not be achieved with anything else. It is a vegetable that fits perfectly in sweet elaborations, such as this beet brownie. If you have not tried to incorporate them into your cakes, soups, cookies, lattes, etc.I can only recommend that you do not waste any more time and get yourself to make this deliciousness it today.
You will see how easy it is to prepare, just crush the cooked beetroot and let it drain, beat the eggs with sugar, mix all the ingredients and bake. In less than 55 minutes you will have it ready and you will only need to wait a little for it to cool down before you start savoring it, yum. Can you ask for more?
Why Bake With Beetroot And What Are The Benefits?
Beetroot is not only incredibly healthy, low calorie veggie, but also makes for making so many delicious and effective beet brownie recipes at home. With its pretty red color that stains hands and clothes, and it adds a touch of cheerfulness in your vitamin packed salads that you can decorate with nuts too!
If you have difficulty eating it raw, know that beetroot comes in multiple tasty and mouth-watering recipes such as soufflés, smoothies, muffins … so many gourmet preparations to vary your meals while consuming vegetables.
Because if eating beetroot is good to taste, it is also a way to maintain its shape. Beetroot has incredible and unsuspected health potential. Be aware that there are three varieties of beets (yellow, white and red, the most frequently consumed).
So to face the winter and its procession of viruses, bet on beet! Anti-stress, feeling of well-being, better quality of life, reveals the 10 virtues of this tuber.
A Wonderful Source Of Vitamins
It is full of benefits with its concentrate of iron and folic acid, excellent for pregnant women and those who follow special diets namely vegans and vegetarians. Folic acid is indispensable for the proper development of the fetus ! During your pregnancy, do not hesitate to treat yourself to a small cure of beets so that baby grows well. In short, beet revitalizes you and has excellent nutritional value. In addition, with its betacarotene content, it ensures a good looking skin, even in the middle of winter.
Beetroot helps your body regenerating its cells
One of the not insignificant virtues of beet is its ability to cleanse the blood. Its red color makes it the ally of blood cells, thanks to the iron it contains and which allows the regeneration of blood. It thus promotes the supply of oxygen in your body. As a result, it improves your blood circulation by dissolving non-organic calcium deposits ! Exit the heart worries and varicose veins that appear on your legs, often unaesthetic.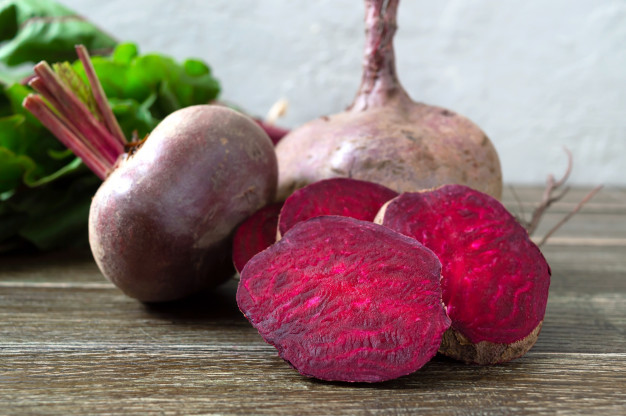 So stock up on beet during your next running race or jogging workout.
A powerful anti-hypertension agent
Thanks to its content of nitrates that are transformed under the chemical action of the organism into nitric oxide, the beet possesses this virtue of lowering blood pressure. Exit the worries of hypertension. According to a scientific study, patients who consumed 120ml of beet juice found a drop in blood pressure by 10 points in less than 4 hours. So to stay in shape and make your body work, we put on beetroot on the menu, it's great in salads for example!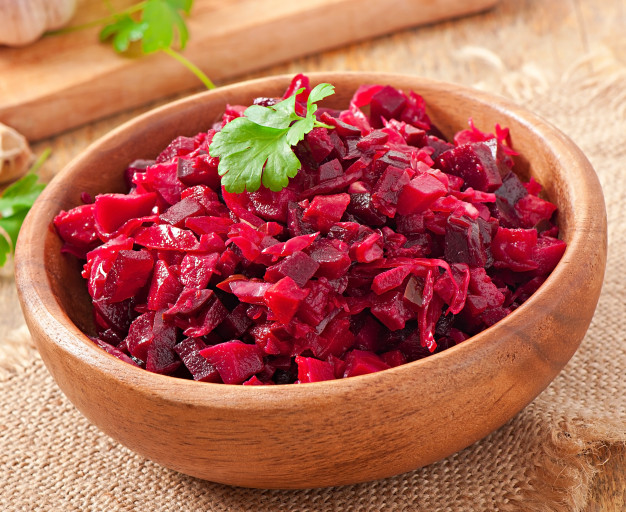 Helps Detoxifying your body
But this is not his only interest in your body. It detoxifies due to its betacyanin content which allows the elimination of dangerous toxins from the body. In short, beetroot protects you and preserves your liver, purifying it and avoiding overloads. If you suffer from problems with digestion, think about beetroot. This one is ideal to recover from some excesses!
Great anti-cancer properties
As an excellent detox ally, beetroot helps you to maintain your shape on a daily basis. It prevents the development of cancer cells. Hence the interest of incorporating it regularly in your menus. This tuber essentially prevents colon cancer. Feel free to cook it with other vegetables as part of a healthy and varied diet that will help you keep the line and health. It was in 1950 that the Hungarian doctor Dr. Alexander Ferenczi used beet juice to treat cancer. So you can regularly consume a little beet juice in the morning for breakfast your favorite beet brownies recipe given below.
Fights bad cholesterol
Like onion, beetroot plays a role in controlling your cholesterol. It especially helps to maintain a balance, especially if you tend to consume prepared dishes, rich in salt and saturated fats. In the evening, on the menu, prepare a small beet salad with vinaigrette and herbs of Provence. Indeed beet has this therapeutic property to reduce the level of bad cholesterol, responsible for cardiovascular disorders and increase that of good cholesterol, essential for the protection and maintenance of your arteries !
Great for anti-stress routine
Feeling energized? Stressed? Anxious ! Everyday life does not spare you ! And if it was enough of a few ingredients to regain a little serenity ! Indeed, beetroot is good for anxious people, thanks to its high concentration of antioxidants. So, focus no longer on chocolate, but on beetroot. This tuber has the advantage of protecting you from diseases and giving you a feeling of well-being ! Well in your head and body with beetroot ! And in addition, you have fishing, because it boosts you! Beetroot, stronger than any pill you could take, an excellent anti-stress shield for your body!
An ally of your slimming routine (yes, even if you add it in your beet brownies)
If you have poorly localized roundness and the slimming capsules are of no effect to you, why not try the beetroot culinary experience ? Simply because the latter will help you lose pounds, due to its content of fiber and nutrients that will bring you a feeling of satiety and will prevent you from snacking on chocolate bars at the snack. By consuming beet, the fibers will swell in your stomach and you will be full!
A stimulant of the immune system
If you are prone to disease, and your immune system is having some difficulty fighting bacteria, stock up on beets. Indeed, these have the benefit of stimulating and strengthening your immune system. In short, it allows you to fight colds, flu and other diseases, and saves you from taking antibiotics. In addition, it relieves headaches and can act as part of some skin problems.
Great Aphrodisiac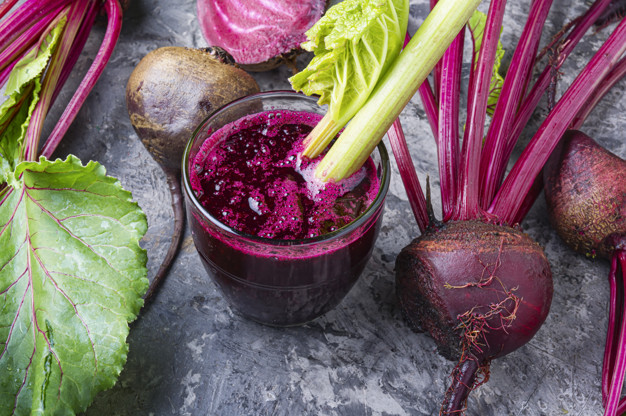 This is one of the least known benefits of beet root! And yet, we would be wrong to deprive ourselves of it ! Yes, it has aphrodisiac benefits. Already since ancient times, the Romans used it for this purpose ! Because it improves sexual vigor and performance. No need to invest in oysters or ginger. Named "Natural viagra" it boosts sexual activity by releasing nitric oxide that promotes blood circulation in the penis. Its content of boron, a kind of chemical compound causes an increase in libido and fertility. Then you will know what to cook for a romantic dinner or just offer your loved one the beet brownies we are focusing here!
If for some reason you can't make the cooked beet root(it's pretty easy, really), you could use beet powder and add it to your flour. Mix the beet powder with some warm water and you have beetroot juice without washing, cutting and boiling a beetroot in order to make your delicious beet brownies recipe.
Chocolate Beet Brownies Recipe (Paleo, Gluten Free)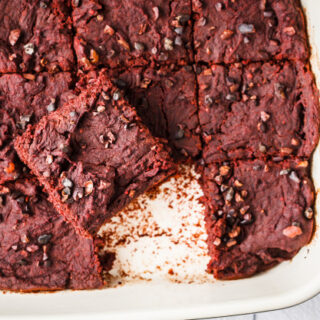 Chocolate Beet Brownies
These incredibly healthy beet brownies are the best brownie recipe you can possibly find out there. Period, I can confirm that. But don't just take my word for it and make them yourself.
Ingredients
Cooked beets 300 g (or beetroot powder)
Butter 200 g
Chocolate fondant without milk 250 g
3 medium eggs
Sugar (preferably brown) 200 g
Wheat flour 60 g
Cocoa powder 30 g
Baking powder (half a teaspoon) 3 g
Pinch of salt
Instructions
Start by pre-heating the oven to 180ºC and lining a square mold of 23×23 cm with baking paper, previously greasing the base and sides with a little butter so that it is well fixed. Once ready, we crush the beet until a puree, place it on a colander and press with the back of a spoon to release its juice. Reserve.
Melt the butter together with the chocolate. We can do it in the microwave in a few times for about 30 seconds each, stirring between each heating, so that we do not burn the oil, or in the traditional way of melting butter with a water bath. For the latter we will need to place the two ingredients in a bowl and fit over a saucepan with hot water. The Steam will cause them to melt slowly. Let it temper and cool down slightly before use.
Then, with the help of an electric mixer, beat the eggs and sugar until blanched and get them to double their volume. Its consistency will have changed, we will have a creamy mass to which we will add the mixture of melted chocolate and butter. Stir until well integrated.
Sift flour, cocoa powder and baking soda or baking powder(you can skip this if you don't like it, as the eggs will add the needed leavening to the brownie recipe). We add it to the above mixture together with a pinch of salt. Then mix with a spatula, with slight rotating movements, until a homogeneous mixture is obtained. Finally, add the beetroot juice or puree and stir well. We pour the mixture into the mold and bake it at 180C (350F) or gas mark 4, for 25 minutes.
Once cooked, remove the mold from the oven and let it cool down before enjoying it. My suggestion is to let it stand for about 24 hours, in a warm place and inside a plastic bag. In this way the beet brownie "sweats" by the and gets a better flavor body profile, it becomes juicier and its taste is enhanced naturally. It is much richer although the key is to have patience and know how to wait, really ;-).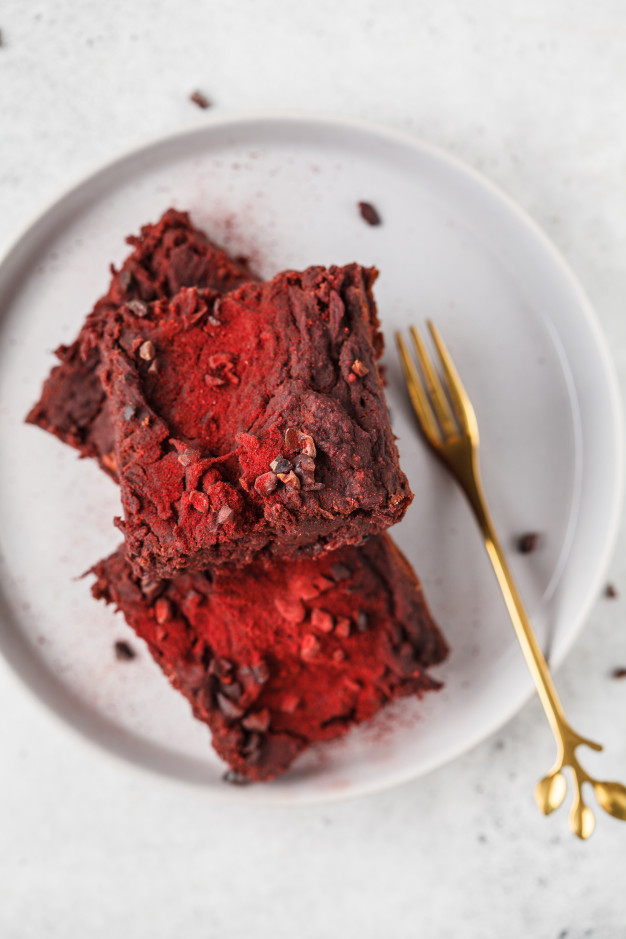 What To Use For Decorating The Beet Brownies
You can sprinkle some beet powder on top, powdered sugar(will have a nice look of a snow), cocoa powder, even some nice organic matcha. Basically any powdered ingredient suitable for desserts will be fine. You can garnish with chopped nuts or seeds too.
As I mentioned I think that this beet brownie is possibly the best brownie in the world. I suggest that you give it a try and serve at your diners with friends or family without warning of which is the secret ingredient and that you wait to receive their verdicts before revealing that you use just beet root to have this effect.
You'll see what surprise faces they put on. We can serve it as a dessert or at snack time together with a glass of fresh milk. The beet brownie makes for a perfect holiday dessert too, be it for Christmas, Halloween (not my favorite) or birthday.
Check also my pink beet root latte recipe too.
Have you tried making this wonderfully healthy beet brownies recipe at home? Let me know.
If you enjoyed this recipe or have questions, feel free to comment below. I would be happy to help you out.
Do you like our recipes? Please subscribe to our newsletter to receive them by email. Note that you will receive a confirmation email to validate your subscription!