Today we offer you to discover the traditional olivier Russian potato salad also just called Olivier salad. It's a salad that has become a must have on New Year's holiday table in Russia and Belarus, it is not only in summer that we eat salads, you know ;-)…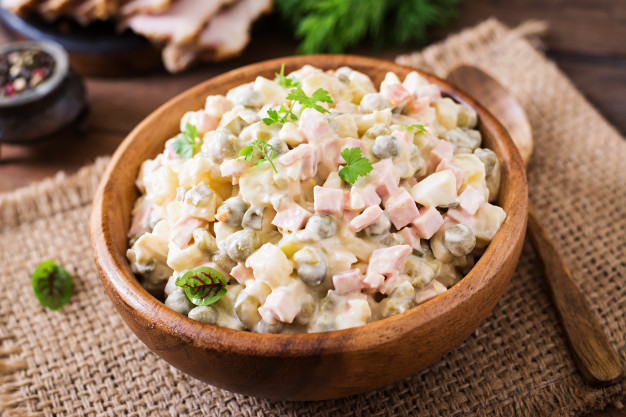 Why Is Russian Potato Salad Called Olivier Salad?
In 1860, Lucien Olivier was the chef of the famous French restaurant in Moscow, L'ermitage. The original version of the famous salad he offered then has little to do with the one we know today. Depending on the season, it could contain veal tongue, caviar, crayfish tails, grouse, capers or pickles.
The recipe for the sauce that accompanied this salad was a secret, although it is assumed that it was Provencal mayonnaise with olive oil.
A recipe very far from the modern recipe, it was a luxury delicacy reserved for a wealthy elite… today, any mixture of diced ingredients and mayonnaise can perfectly be considered an Olivier salad. Preferably use a homemade mayonnaise as it's best and you can control what is added and unlike the store bought, which is full of artificial additives.
This Russian salad is made in Soviet fashion and usually consists of chopped potatoes, boiled eggs, pickles, canned peas, carrots and Russian sausage, not to mention mayonnaise sauce. Other countries have introduced new ingredients such as chicken breast, ham or roast beef, tuna as well as red peppers or green olives… a salad that can be enjoyed as a starter or main course, perfect for a picnic.
Usually, after preparing this salad, we turn the salad bowl to present it in a dome on a serving dish, decorating it according to its inspiration… here we simply offer it in a nice salad bowl 😉
Traditional Olivier Russian Potato Salad Recipe
Serves: 6 people
600 g potatoes with firm flesh
300 g carrot
250 g canned peas
250 g of ham or any sausage you like
6 eggs
4 to 5 large Russian style pickles (malossol)
200 g mayonnaise (homemade or not)
a little lemon juice
salt and pepper
Preparation
Here we poured our Russian salad into a pretty salad bowl and decorated it with hard-boiled egg wedges and pickle rings.
Peel the potatoes and carrots. Wash them and cut into small cubes (neither too small, nor too large… about 1 cm).
Cook them in salted water in different pans about 10-12 minutes, the knife blade should be able to sink into your vegetables without resistance.
Also cook the eggs in boiling water for 10 minutes.
While the vegetables are cooking, dice the ham the same size as the vegetables. Reserve a large pickle for the decoration of your salad and dice the others.
Drain the vegetables. Peel the hard-boiled eggs and dice 4 eggs. Set aside the other 2 to decorate your dish.
After the vegetables have cooled, put them in a large salad bowl. Add the drained peas, diced ham, eggs and pickles. Add mayonnaise, a little lemon juice, salt and pepper and gently mix everything.
Cover the salad bowl with cling film and set aside at least 3 hours in the cool.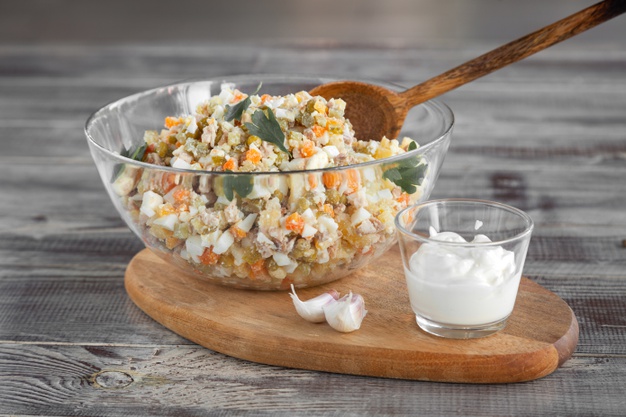 Recipe Tips
Once it has "rested" in the fridge, do not forget to add parsley or dill on top of the salad for both decoration and enchanted taste.
If you want to make the most out of the flavors offered by this recipe, do not forget to use fresh vegetables and homemade mayonnaise!
Many variations exist of the Olivier salad. If you do not like ham or want to vary the ingredients, you can quite turn to chicken white. It is a holy food that contains little fat and has a high level of protein.
This Salad Is A Russian Tradition
Olivier salad (Салат Оливье in Russian) as we mentioned is usually eaten in Russia during the winter and especially in the New Year eve. It is known by various names such as "Russian salad" or "Zimni" (Зимний) salad.
The recipe was invented by Lucien Olivier, head chef of a famous Moscow restaurant, located on Troubnaya Square, The Hermitage. The chef was especially proud of his recipe and kept its composition secret.
However, one day his assistant, Ivan Ivanov managed to drive the chef away and noted the establishment of food to deduce the recipe. He left his post to be hired as a chef at another restaurant, where he used the recipe he had deduced from his observation. He named his recipe "the stolichnyy".
Unfortunately, the stolichnyï did not experience the same success, because its sauce was not as good as that of Lucien Olivier.
What is the Best Drink For The Russian Salad
According to the tradition, the best drink that can accompany your dish will naturally be still or carbonated water.
If you want to drink wine with your Russian potato salad, you will have to turn to rose wine that would taste fresh and be perfect match.
Remember to be careful with alcohol and enjoy it with caution. Alcohol abuse is dangerous to your health. This must therefore remain a product to be consumed in moderation.